The Best Stock For Day Traders Right Now and Why
The longest conversation I have in the Order Flow Coaching Program are around which stock to trade.
Depending on where you are in your trading journey the battles between risk and reward rages on. Early you want to make money.
Then the stock market kicks you in the teeth and your attention turns to not losing money. Your passion is still active but you realize you still have a lot to learn.
Once you learn to control your losses your focus turns to the getting profitable again.
And this is where most traders stall. They've stopped losing but can't get paid. This is where you need to get out of your comfort zone and trust yourself, trust your strategy.
It's time to find stocks that have RELIABLE volatility and institutional interest. One where you have weekly opportunity but also have liquidity to exit the losers.
Right now ROKU checks all the boxes. The stock is day trading like it's 1999. Notice I said day trading. The swing trading picture is tough in this stock with the constant barrage of ever-changing news and streaming war updates.
But boy oh boy for day traders it's heaven.
Have a great day
Pete
On Wednesday, December 11, 2019, one of the greatest traders ever to live is going to do something he's never done before…
Something you will surely want to witness…
Something we've never seen demonstrated this way before…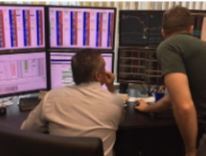 He's going to attempt to generate $70,000 or more—in just a few hours—just from trading. 
Care to see for yourself if he can pull it off? 
And how you could use his secret yourself, to generate $200,000 in the coming year?
Stocks stutter as attention turns to trade deadline, central bank meetings
LONDON (Reuters) – European stocks fell on Monday as worries about a Chinese economic slowdown and the U.S.-China trade war outweighed Friday's strong U.S. jobs data, in a quiet start to trading before several big events later in the week.
reuters.com/stock-market-stutters
These are the 20 best-performing stocks of the past decade, and some of them will surprise you
As we approach the end of 2019, it's time not only for year-end lists, but end-of-decade lists.
U.S. stocks have had what can only be called an excellent decade. MarketWatch will feature a number of forward-looking articles building on the past decade's action. Today we're taking a look back.
marketwatch.com/20-best-performing-stocks-2010-2019
My Only Edge in Markets by Dr Brett

I've studied the hell out of my winning and losing trades and the bottom line is that I only have one edge in trading. When I identify spots where sellers are dominant, but can't push the market significantly lower, that works out as an area to buy.

The sellers are trapped and have to cover. When I identify spots where buyers are dominant, but can't push prices to new relative highs, that is often worth fading. The buyers are trapped and have to bail.