Jim Simons The Man Who Solved the Market: Trading Book Review
The Man Who Solved the Market: How Jim Simons Launched the Quant Revolution
Jim Simons is the greatest money maker in modern financial history. No other investor–Warren Buffett, Peter Lynch, Ray Dalio, Steve Cohen, or George Soros–can touch his record.
Since 1988, Renaissance's signature Medallion fund has generated average annual returns of 66 percent. The firm has earned profits of more than $100 billion; Simons is worth twenty-three billion dollars.
amazon.com/Man-Who-Solved-Market-Revolution
The single greatest lesson from this book is that it takes work to be successful in the markets. A fascinating true story about never giving up until his vision of beating the markets came true.
---
On Wednesday, December 11, 2019, one of the greatest traders ever to live is going to do something he's never done before…
Something you will surely want to witness…
Something we've never seen demonstrated this way before…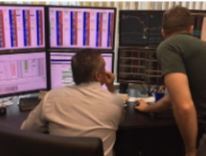 He's going to attempt to generate $70,000 or more—in just a few hours—just from trading. 
Care to see for yourself if he can pull it off? 
And how you could use his secret yourself, to generate $200,000 in the coming year?
Home Depot (HD) trading into it's annual December swoon.
I'm game planning for an inside day breakdown with a target to cover the sell short @ $200. If the stock price breaks higher I am letting the trade go.
Pete
China gives little indication US trade talks are progressing
BEIJING — China's official spokespeople are keeping quiet on trade talks with the U.S. amid growing uncertainty on when even a phase-one agreement can be reached.
"China believes if both sides reach a phase-one agreement, relevant tariffs must be lowered," Gao Feng, Ministry of Commerce spokesman, said…
Expedia stock soars after CEO and CFO are ousted in disagreement with board
Shares of Expedia Group Inc. soared more than 7% Wednesday, after the online travel services company surprised the market with the news that its CEO and CFO are out after about two years in their roles, following a disagreement with the board of directors on strategy.